Russian Modern Winter Mountain Boots Tactical Warm Boots Faradei for Special Forces These boots were created for the special forces of the Russian Army - special forces, marines, airborne forces.Genuine leather, latest model, orthopedic insoles, and thermal soles.The Faradei boot lining is a membrane with insulation.The membrane retains w..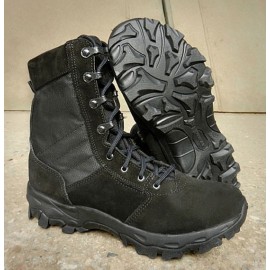 This model obtains all qualities of Special Forces boots: speed lacing feature, top combined of genuine velours leather with extra strong CORDURA® inserts. Bi-layer sole consists of EVA and rubber. Wear-resistant lining with anti-fungual effect. Best choice for outdoor active rest and airsoft...
Russian Tactical Modern Assault Bytex Boots Model Mongoose 24111The Mongoose series has rightfully taken its place in the uniforms of many special units in Russia and Belarus.The Italian sole has high strength characteristics, and wear resistance indicators, which increases the life of the shoe as a whole.Reversible tread design for maximum tractio..
Showing 1 to 3 of 3 (1 Pages)